Increase Efficiency and Maximize Production
Eliminate manual time consuming lubrication
Your machine doesn't need to wait to be Greased or Lubricated, it can go straight to work
Our Automatic Greasing and Lubrication systems are designed to lubricate your equipment in specific metered amounts at specific intervals to be more efficient and cost affective
Decrease Repair Costs
Our Automatic Greasing and Lubrication Systems are designed to deliver Grease and Lubrication to your Equipment in specific metered amounts Automatically where it needs it and when it needs it at full rotation while your machine is operating. A person cannot do that.
Our Systems are designed for the Rigors of our Canadian Climate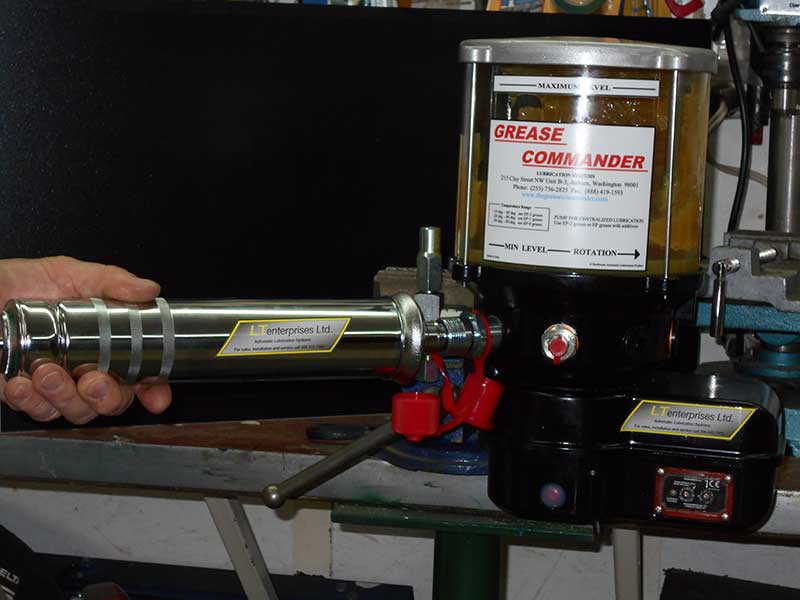 Easy fill cartridge press. Install cartridge like a normal grease gun and push it in the Automatic greaser. Only takes moments to fill. That simple. No 20 liter pails or large pumping system to haul around.
AN AUTOMATIC LUBRICATION SYSTEM DELIVERS A CONTROLLED AMOUNT OF LUBRICATION TO MULTIPLE LOCATIONS ON YOUR MACHINE WHILE THE MACHINE IS OPERATING.
In a study conducted by a major component manufacturer, improper lubrication and contamination accounts for 53% of bearing failures, this in turn causes major downtime and significant unnecessary maintenance cost including, replacing bearings, labour cost for the repairs, unscheduled downtime and not meeting the customers' delivery commitments. These failures are caused by dirt, dust, moisture and improper amounts of lubrication. Our Automatic Lubrication system keeps your bearings full of grease so dust, dirt and moisture cannot contaminate your bearings.
Manual lubrication can only be done when the machine is not in service, when you have time and if you have someone to do it, and also requires a person to climb over, under and in confined spaces on the machine.
Our Automatic Lubrication Systems lubricates your equipment in small measured amounts at specific time intervals when your machine is working and delivers the proper amounts of grease when it needs it, where it needs it, at full rotation of your bearings to give optimal grease coverage. A person cannot do that.
WHAT OUR AUTOMATIC LUBRICATION SYSTEMS WILL DO FOR YOU
SAFETY
Eliminates the need to climb up, on and over machinery and difficult to reach areas, personal safety must always be considered.
EFFICIENT Lubrication
Lubricates the machine while it is working. The machine does not have to wait to be greased, it can go straight to work and delivers lubrication in small measured amounts in specific time intervals which reduce grease cost with no wasted lubricants. This cannot be done by manual greasing.
BETTER LUBRICATION PRACTICES
Insures that all the bearings on your machine are greased with the proper measured amounts specific for each bearing at timed intervals. This eliminates bearings being missed by manual greasing.
LESS DOWNTIME
Automatic lubrication reduces maintenance cost and minimizes downtime by less wear on components extending the life of bearings, bushings and components on your machine. And reduces the amount of replacement parts you need to stock.
INCREASES PRODUCTIVITY
Less downtime increases productivity due to less breakdowns (when one bearing fails the entire line shuts down until repairs are made.)
MACHINE LIFE
Consistency of lubrication on the surface of the bearings protect and maintains the health of your machine, meaning your machine runs longer and more efficient.
ENERGY CONSUMPTION
Lowers energy cost due to less friction on the bearing surface which in turn takes less power to operate your machine.
MANUAL LABOUR COSTS
Reduces the cost of manual labour of greasing your machine and allows your maintenance team to better focus on preventative maintenance as opposed to struggling with major repairs which impede productivity.